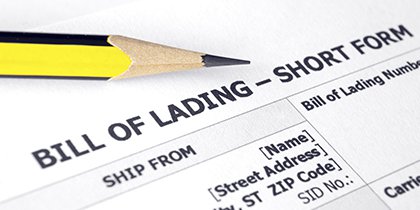 Consumers should never sign blank documents! However, in some cases it is acceptable to sign incomplete documents. Since the final charges for the moving services cannot be determined until after the goods have been loaded and weighed (when based upon weight)
---
some of the documents a consumer shipper is required to sign at the time of pick-up will be incomplete and not contain the final charges.
Signing a bill of lading at the pick-up that is incomplete and does not contain the final charges is not illegal or unusual since final charges are not known at the time of pick-up.
Federal law governing interstate moving specifically states in 49 CFR section 375.501(d):
"[The motor carrier] may provide the individual shipper with blank or incomplete estimates, orders for service, bill of lading, or any other blank or incomplete documents pertaining to the move… You may require the individual shipper to sign an incomplete document at origin provided it contains all relevant sipping information except the actual shipment weight and another other information necessary to determine final charges for all services performed."
The estimate or revised written estimate must contain a detailed itemization of all services and charges and must be approved and signed by the consumer shipper before services begin.
The estimate or revised written estimate must never be signed blank or incomplete. A consumer shipper should never sign an estimate or revised written estimate that does not list the total estimated charges.
---
---
Moving Claims is not an insurance company and the employees of Moving Claims are not acting as your insurance adjusters. Moving Claims does not practice Insurance laws and does not give legal advice. This site is not intended to create an insurance claim, and by using the Moving Claims websites, no insurance claim will be created with Moving Claims. Instead, you are filing a Household Goods claim with the carrier who moved you via Moving Claims Websites. Moving Claims websites information as well as any advises of its employees is not a substitute for the advice of an attorney. The information contained on this website is designed for informational purposes only. Nothing on this website is designed or intended to constitute legal advice. Federal, state, and local laws and regulations governing the moving industry change frequently and may be interpreted differently by different people. If you need specific legal advice you should consult a lawyer directly or a representative from the US DOT.