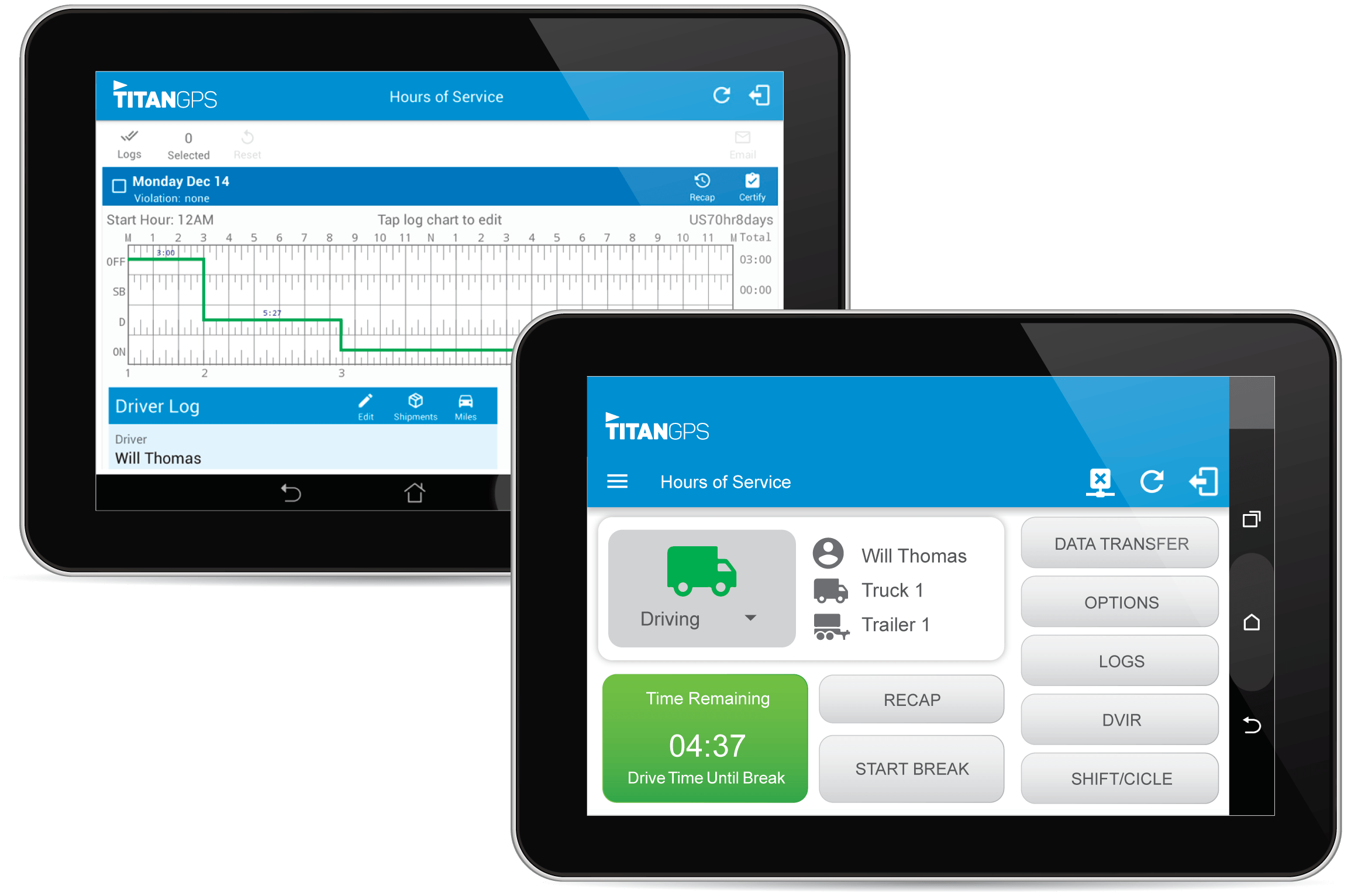 The electronic logging device (ELD) rule – congressional mandated as a part of MAP-21 – is intended to help create a safer work environment for drivers, and make it easier and faster to accurately track, manage, and share records of duty status (RODS) data.
An ELD synchronizes with a vehicle engine to automatically record driving time, for easier, more accurate hours of service (HOS) recording.
---
WHAT DO I NEED TO KNOW?​
The ELD Rule applies to most motor carriers and drivers who are currently required to maintain records of duty status (RODS). The rule applies to commercial buses as well as trucks. Canada- and Mexico-domiciled drivers are included, unless they qualify for one of the exceptions to the ELD rule.
ELD RULE EXCEPTIONS:
Drivers who use paper logs no more than 8 days during any 30-day period.
Driveaway-towaway drivers (were the vehicle driven is the commodity) or the vehicle being transported is a motor home or a recreation vehicle trailer (at least one set of wheels of the vehicle being transported must be on the surface while being transported).
Drivers of vehicles manufactured before model year 2000.
WHAT DO I NEED TO DO?
Carriers must evaluate and select ELDs, and ensure they are installed and drivers and administrative staff are trained to use them by the deadline that applies (December 16, 2019 for carriers using AOBRDs or December 18, 2017) for those using paper logs or logging software.
Drivers must understand and be able to use ELDs by the required deadline, including how to annotate and edit RODS, certify RODS, and collect required supporting documents. You will also need to know how to display and transfer data to safety officials when requested.
ELD BENEFITS:
ELDs make it easier, simpler, and quicker to keep driver logs.
ELDs limit mistakes and reduce form and manner errors.
ELDs provide information to drivers and motor carriers so that drivers can better manage fatigue and schedule issues.
ELDs correctly record location and accurate information to easily track duty status.
ELDs are a good management tool and back office asset to improve productivity and enhance compliance.
With ELDs, there is less paperwork, and driver logs are orderly, clear, and accurate.
DRIVERS SUBJECT TO THE ELD RULE:
In general, the rule applies to interstate drivers of CMVs (as defined in 49 CFR 390.5) who are currently required to keep Records of Duty Status (RODS). The following are not required to use ELDs (but carriers may choose to use ELDs even if they are not required):
Drivers who use paper logs no more than 8 days during any 30-day period.
Driveaway-towaway drivers (transporting a vehicle for sale, lease, or repair).
Drivers of vehicles manufactured before model year 2000.
COMPLIANCE PHASES:
PHASE 1: Awareness and Transition Phase (February 16, 2016 to December 18, 2017)
This is the two-year period following publication of the final ELD rule. During this time, carriers and drivers may begin voluntarily using ELDs (beginning 60 days following the publication of the final rule, February 16, 2016). Carriers and drivers subject to the rule can use any of the following for records of driving status (RODS):
Paper logs
Devices with logging software
AOBRDS
Certified ELDs listed on the FMCSA
ELD website
If a driver is using two different methods of recording HOS (paper, logging software, etc.), the driver must let the inspector know which method the driver is using for the official RODS. Inspectors may contact the motor carrier to confirm which method the driver should be using for official RODS, use the other method as a supporting document, and let the carrier know about any HOS violation or falsification.
During Phase I implementation, the main goal is to ensure safety along with HOS compliance, while being aware of the different types of technology voluntarily being used by the motor carrier industry.
It's also important for safety officials to understand what the ELD will display, including the header, grid graph, and detailed log data. When ELD RODS information is requested during an inspection in Phase I, the driver has the option of providing either the actual ELD display or a printout with the standardized ELD data set.
Inspectors and investigators can readily review the standardized ELD information to determine if permissible HOS limits were exceeded and detect falsifications for enforcement purposes. The output from ELDs also provides information about the ELD system, such as system malfunctions and data diagnostics, that may be used to find data discrepancies and log falsifications.
PHASE 2: Phased-In Compliance Phase (December 18, 2017 to December 16, 2019)
This is the two-year period from the Compliance Date to the Full Compliance Phase (four years following final rule publication). Carriers and drivers subject to the rule can use:
AOBRDS that were installed prior to December 18, 2017.
Certified, registered ELDs following rule publication December 16, 2015.
During the second phase, information technology software tools will be available to securely transmit ELD data information to FMCSA officials and law enforcement for enforcement and compliance purposes. The rule's new supporting document requirements for drivers and motor carriers using either device will also begin during this phase, on the rule's compliance date.
PHASE 3: Full Compliance Phase (December 16, 2019)
​After December 16, 2019 all drivers and carriers subject to the rule must use self-certified, registered ELDs that comply with requirements of the ELD regulations.
WHAT DO I NEED TO DO?
Take Advantage of FMCSA Training
FMCSA will be providing a variety of webinars, as well as classroom training. Check the training page for availability and schedules.
Take Appropriate Action During Inspections or Stops
Identify which HOS recording method the driver is using.
Verify that the HOS recording method is authorized during the specific ELD implementation phase.
Ensure that you understand what data displays are appropriate for each HOS recording method.
ELD AND HOURS OF SERVICE (HOS)
The ELD final rule does not change any of the basic hours-of-service rules or exceptions. For more information regarding hours-of-service, visit FMCSA's Hours of Service page.
NOTE: The information provided on this website is to help promote understanding of and compliance with the ELD rule - it is not a substitute for the specific requirements documented in the rule.
---
Join the Moving Claims Network!
We are happy to provide excellent services to both moving companies and moving customers. Join our extensive network today to experience exclusive benefits of partnering with us!
---
Moving Claims is not an insurance company and the employees of Moving Claims are not acting as your insurance adjusters. Moving Claims does not practice Insurance laws and does not give legal advice. This site is not intended to create an insurance claim, and by using the Moving Claims websites, no insurance claim will be created with Moving Claims. Instead, you are filing a Household Goods claim with the carrier who moved you via Moving Claims Websites. Moving Claims websites information as well as any advises of its employees is not a substitute for the advice of an attorney. The information contained on this website is designed for informational purposes only. Nothing on this website is designed or intended to constitute legal advice. Federal, state, and local laws and regulations governing the moving industry change frequently and may be interpreted differently by different people. If you need specific legal advice you should consult a lawyer directly or a representative from the US DOT.